Rewrite
I met Sarah, Peggy, and Cathy in 1987. By 1988 we were best friends of the BFF variety- we even wore gold charms that were made from four hearts engraved with "we're best friends" split four ways. I was the "we're".
While I have a zillion and one incredible memories of the four of us together, my favorite memory is one of the first.
In the eighth grade, a favorite lunch spot was Husson's Pizza on the west side of Charleston, West Virginia. I'm not even sure if the Husson's is still there but I can see the teeny building and smell the greasy pizza as if it were yesterday. One of the perks of Husson's- besides $1.00 slice pizza- was that it had a jukebox filled with all the latest eighties hits. We used to play as many songs as our 45 minute lunch break allowed and we would laugh, talk, and dance and occasionally squeeze in a bite or two of pizza.
We now have a running joke that the reason we were all so skinny back then even though we dined daily on greasy fare like Husson's was because we were too busy laughing and dancing to eat. It's a wonder none of us choked to death.
We also used to make up our own song lyrics to the songs on Husson's jukebox. While there are many that come to mind (
Eat Some Fries
instead of Leta Ford and Ozzy Osbourne's
Close Your Eyes
and
Where Is My Cow
instead of
Where Are You Now
by Sheriff), my all time favorite lyric rewrite was
Roni
by Bobby Brown.
I'm sure we were inspired by our very own lunch when we wrote Pepperoni:
The truth about a pepperoni, she's a sweet little meat
You can eat her right, feel full, and burp her up
Only pepperonies can give a special taste
A special kind of taste that makes ya feel good inside

If you believe in pizza and all that it can do for you
Give it a chance, girl, you'll find seasoning
And if you find a pepperoni that is right for you
Make it official, give her your mouth

My stomach belongs to my pepperoni (she's my only meat)
She's my only meat
My stomach belongs to my pepperoni (she's my only meat)
She's my only meat

The truth about a pepperoni, she's always on the pizza
Sitting on her pizza, wishin' they were home alone
She sends ya lovely tastes, with the smell of sweet meat
This is what a real pepperoni likes to do for you

The truth about a pepperoni, she's a sweet ol' meat
About the sweetest little meat in the whole wide world
She'd make the toughest old pizza fall deep in love
And once you've had a pepperoni, you never give her up
She's a special kind of meat that makes her sausage feel proud
You know, the kind of meat that stands out in crowds
If you found a pepperonies and a pepperoni is so right
I think I'm gonna eat her for the rest of my life
What makes this memory all the more special is that I know beyond a shadow of a doubt that even now- 18 years later- if Bobby Brown was to release Roni and the four of us were together, we would probably sit- laughing until we cried while our pizza got cold- and come up with the very same lyrics. So much has changed over the years but much to the chagrin of anyone in listening range of the four of us together, so much has stayed the same.
Love is finding your sisters… and rewriting the lyrics.
Our 80's themed thirtieth birthday party: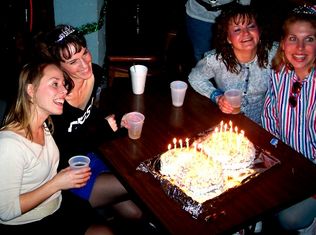 The next generation….
Happy
Love Thursday
.
Labels: Love Thursday
Links to this post