HOA: I know what the "A" stands for
HOA: Homeowner's Association, right?
Wrong.
Homeowner's is right but the "A" stands for something else. It starts with an "ass" but instead of ending in "ociation", it ends in a "hole".
I mentioned my HOA drama in a previous entry and spoke of the
old retired dude who everyone hated"
but what I failed to mention was his name.
His name is Raymond.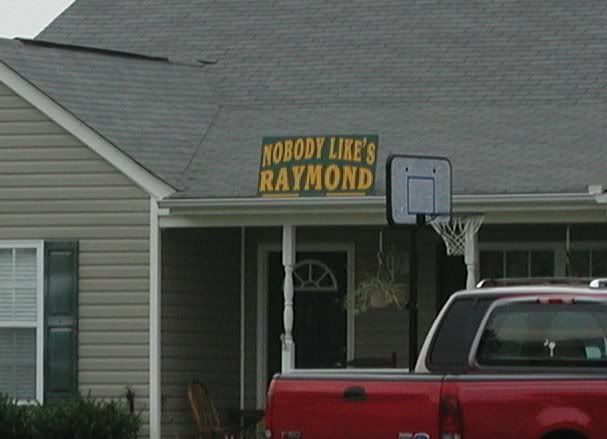 Apparently the rednecks are not only a vindictive bunch but they are also proficient in sign-making and plays on words related to pop culture. Although I really don't think the ' before the "s" was necessary, I think their point was made. Unfortunately it was made only a brief walk from my house.
I can't believe this garbage is going on in my neighborhood. I'm only thankful that my children are too young to really grasp what is going on. I am enjoying a good chuckle but I am bothered because both the rednecks and Raymond are raising children old enough to be aware of this insanity and possibly be influenced as to this is how adults handle their problems.
Between this and my
my morning Dixie Chick debacle
, I am seriously considering looking for a quiet piece of country land somewhere in the New Englad area of the US.
On a more positive note, I have FINALLY figured out how to upload video so enjoy this clip of the Goose showing off her sweet vocabulary skills!
Labels: Da hood
Links to this post